Qualifications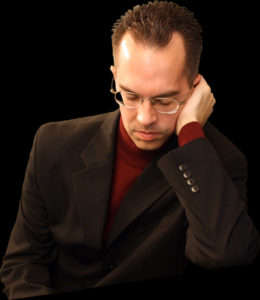 Education
Masters in Piano Performance, University of Nevada, Reno (2001)
Bachelors in Piano Performance, University of Nevada, Reno (1999)
Bachelors in Mathematics, University of Nevada, Reno (1999)
Minor in Computer Information Systems, University of Nevada, Reno (1999)
Graduated Magna Cum Laude in 1999.
Honors
Recipient of the 2005 Nevada Arts Council Fellowship Grant in music composition, given to three artists in the state of Nevada each year.
Recipient of the 1999 UNR Excellence Fellowship, the most competitive fellowship given to graduate students at UNR.
Received highest music scholarship available at University of Nevada, Reno, and scholarship was extended for a fifth year to allow completion of dual degree.
Students
Student was runner-up in the 2012 RYPO Concerto Competition (Bach Keyboard Concerto No. 1 in D minor).
Every year through 2012, my students were selected by invitation for high-profile summer concerts (Hawkins Amphitheater, 600+ in attendance) as part of the Reno Artown series. In some years, nearly half of the students in the program were my students or former students studying in college.
Students have participated in Reno Youth Music Festival every year for 12 years (and in the NFMC festival since 2012) with consistently outstanding ratings (many years 100% of my students received "Superior" or "Superior With Distinction" ratings).
Experience
Presented in concert (paid) by the following venues: Tahoe Tallac Association (Valhalla Arts Festival, South Lake Tahoe, 2006 and 2007), the Nevada Arts Council (Reno, NV, 2005), University of Nevada, Reno (2005), Winchester Cultural Center (Clark County Parks & Recreation in Las Vegas, 2004), Sierra College Dept. of Music (Rocklin, CA, 2004), and Franktown Ranch Center for the Arts (Washoe Valley, NV, 2004).
Participated in the Southwest U.S. Divisionals of the 1997 MTNA-Young Chang Collegiate Artist Piano Competition.
Performed Mendelssohn's First Piano Concerto with the Reno Pops Orchestra in 1997.
Adjudicated for several piano competitions held in Nevada, California and Pennsylvania, including the MTNA senior level (high school) competition for PA. Gave several adjudication workshops to teachers in the Northern Nevada Music Teachers Association.
Presented "The Art of Rubato" at the 2011 Nevada Music Teachers Association state conference as well as the 2015 Pennsylvania Music Teachers Association state conference.
Presented on the topic of the overworked high school student at the 2007 World Piano Pedagogy Conference (Townhall Committee of Hans Boepple).
Contributor to American Music Teacher (MTNA journal), including a 3,500-word feature article in the July/August issue of Clavier Companion titled "Tone Production: Doing the Right Things For the Right Reasons" (p. 16-25).
Accompanied the University of Nevada, Reno Symphonic Chorus for two years (1994-1996 academic years), playing orchestral reductions to works such as the Brahms Requiem, Handel's Messiah, Haydn's Mass in D minor, and Beethoven's Ninth Symphony.
President of the Northern Nevada Music Teachers Association for two terms (2008-2010 and 2010-2012). Private piano instructor since 1997.
Pianist at South Reno United Methodist Church 1994-2012, playing for two services and accompanying the choir every week in all styles of music including chord sheets.
Played the Darth Vader (Death Star) theme for the bridal processional at a friend's wedding in 2010, stopped and said, "Oh! Sorry, wrong song," then proceeded with Wagner's Bridal Chorus.
NCTM
I am an NCTM (Nationally Certified Teacher of Music) member of the Music Teachers National Association. I engage in further pedagogical and professional training by reading two journals and by attending workshops and conferences.
MTNA certification is the closest a teacher can come in the U.S. to having an official "license" to teach. The U.S. is one of the only countries in the world that doesn't require a license to teach music to you or your child. National certification through the MTNA is not as academically rigorous as what I went through to get my Masters in Piano Performance degree, but NCTM status does show one thing that academic degrees cannot show: devotion to teaching. Teachers must renew their certification every year for 10 years to become permanently certified, and this can only be done by accumulating "points" that result from the teacher and students being musically active. I am proud to be part of a system that not only encourages teachers to be competent and continue their training, but also reaches out to make the public more aware of how to select a good teacher.